Nachtkonzert (Night Concert) -
le grand pas de deux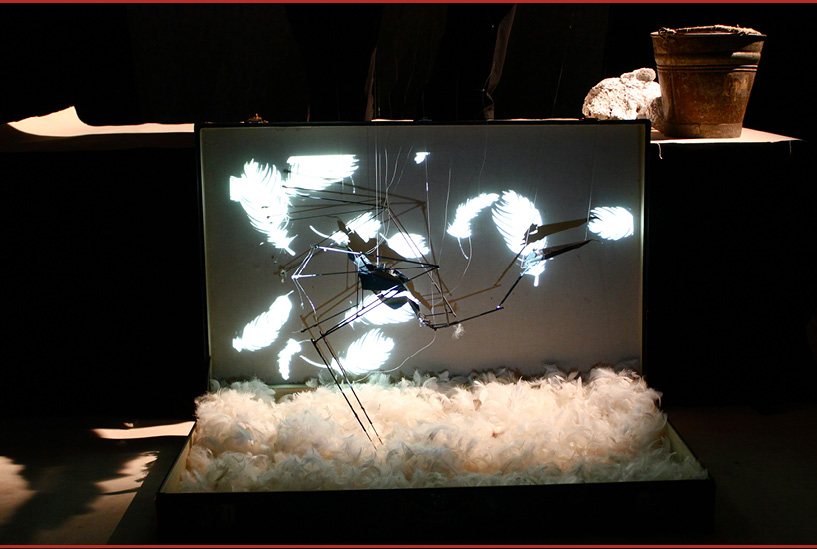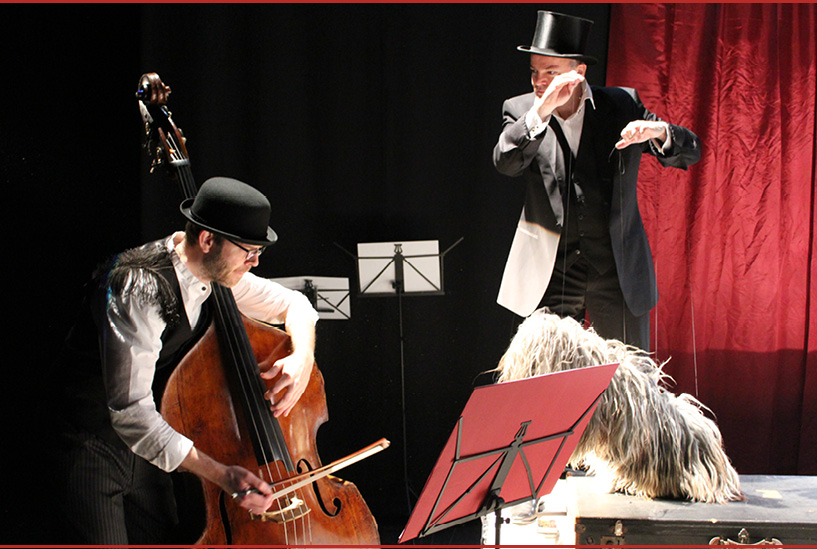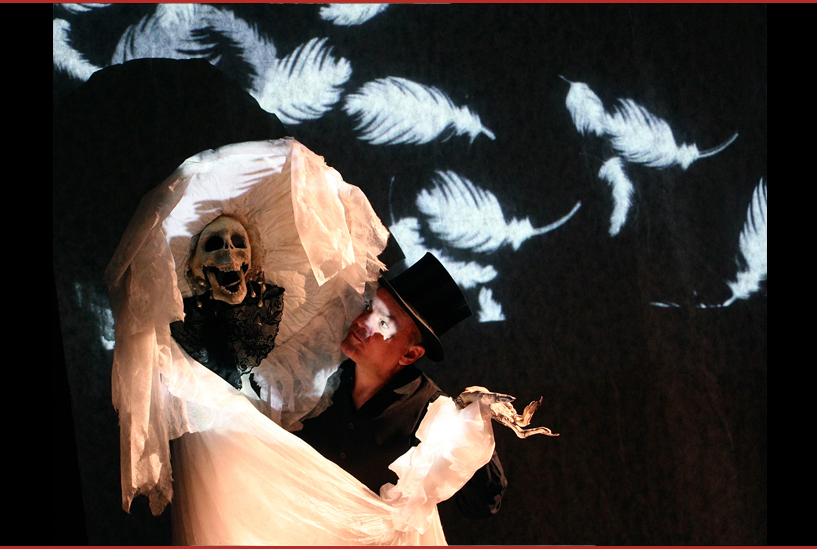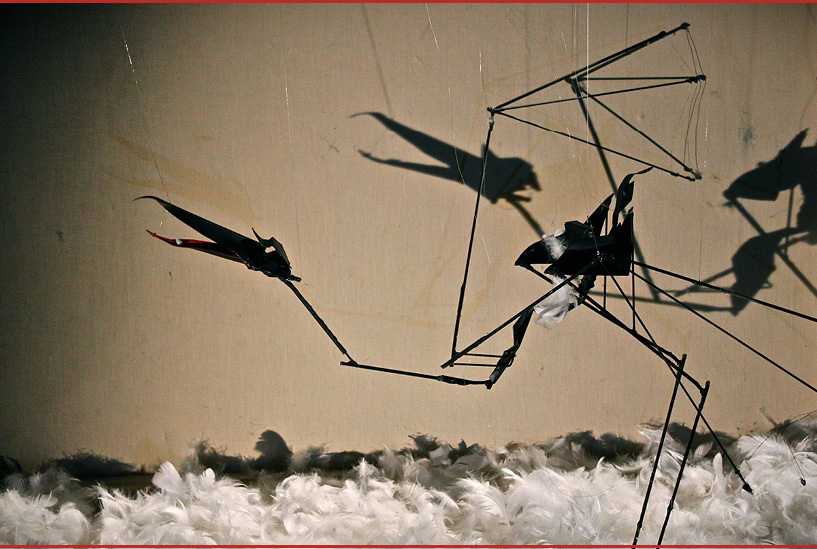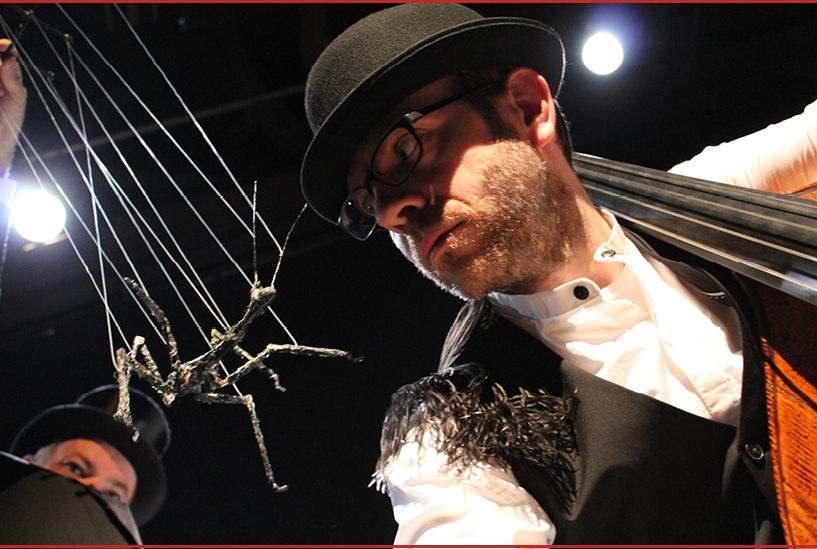 Nocturnal fantasies, born from the interaction of music and puppetry, developed by two virtuosos who continuously create new magical worlds from sound, material, and puppetry. While the musical compositions range from baroque to atonality to jazz, the performances of the puppets allow the audience to get in touch with the music in a special way.
The puppets connect with the compositions or act in contrast to them, always enabling a new perception of the music. The thematic connection of this night concert to the form of "nocturnes" is reflected in the puppetry and creates a night-time cosmos of dreams and chimeras, shadows and phantoms.
The duo
Frank Soehnle and Jesper Ulfenstedt met at Komische Oper Berlin in the production "Orpheus" – based on Monteverdi in new arrangements by Elena Kats-Chernin, under the direction of Barrie Kosky – and started collaborating on a programme for solo contrabass and puppets.
Length of performance: 60 minutes, no interval
Premiere: 07.02.2015, Komische Oper Berlin
press reviews


With top hat and bowler
Two arts and two artists join forces in "Nachtkonzert (Night Concert)"
With "Nachtkonzert" (Night Concert) for solo contrabass and puppet theatre, the Fitz in Stuttgart succeeded in bringing the latest piece by Frank Soehnle, grand master of puppet theatre, to their stage. Not an easy task: The co-founder of figuren theater tübingen, who completed his training at the University of Music and the Performing Arts in Stuttgart and now also teaches there, is a much sought-after artist with many obligations, some of them worldwide. "Nachtkonzert" is once again a brilliant expedition into a new land of puppet theatre, an adventure which Soehnle undertakes on a regular basis. This time he has chosen the Swedish contrabass virtuoso Jesper Ulfenstedt, who has already played in several world-famous orchestras, as his partner. The arrangement of this experiment, which can be described as a "night concert", can best be described if one assumes that it is more than devising a puppet theatre performance of similar virtuosity to the virtuoso bass. It is also the effort to find harmony between the music and the imaginative actions of the puppets. The aim is to deepen the musical impressions, to create contrasts to the music, and even to enable new perceptions. Those familiar with Soehnle know that he pours out a cornucopia of ideas, keeps the tension high with new and surprising figures and actions, all while offering a kaleidoscope of object and puppet theatre informed by his creativity.
In Jesper Ulfenstedt, he has found a kindred spirit who apparently shares Soehnle's penchant for unexplored paths. Keeping the tension high for over an hour with pieces for solo contrabass: This requires masterful skills, which Ulfenstedt demonstrates as a matter of course. The two gentlemen on stage, in top hat and bowler, almost casually establish the difficult union of such widely divergent art forms, and create a homogeneous whole. In this piece, reminiscent of a "nocturne", Ulfenstedt plays a varied sequence of solos, from baroque to atonality, and from jazz to compositions by contemporary composers. Soehnle, who usually manipulates his puppets in full view on stage, also continually brings to light new accents, proving once again that he remains one of the most inventive puppeteers in the world. Simple feathers become moving figures, dreamy and nightmarish creatures from larger-than-life ghosts to small mythical creatures, sometimes disturbing and almost dangerous, sometimes even touching. A fringed carpet becomes a dog-like, trainable object; simple sheets of paper are transformed into figures with heads and blurred bodies. And Soehnle is not content with guiding the puppets in a virtuosic way. He demonstrates new techniques time and again, even incorporating video, which completely transforms the movements on stage through lighting effects.
Sometimes touching, sometimes disturbing, but always astonishing: The two artists create a seamless whole and offer an outstanding performance full of surprises.
To this feat we say: Hats off!
Armin Bauer, 13.12.2016, Ludwigsburger Kreiszeitung
music


Antonio Bibalo (1922-2008): Invenzione evolutiva per contrabasso solo (9')
György Kurtág (born 1926): "Shadows" (1')
Carl Friedrich Abel (1723-1787): Sonate WKO 155 (arr. K. Stoll) (9')
Emil Tabakov (born 1947): "Motivy" (4')
Teppo Hauta-aho (born 1941): Kadenza (8')
Annibale Mengoli (1851 – 1895): Concert Study No. 4 (2')
Frank Proto (born 1941): 1963 (arr. J. Ulfenstedt) (5')
György Kurtág (born 1926): "Eine Botschaft an Valérie" (4')
Trad./arr. Jesper Ulfenstedt "Swedish Rapsody No. 1" (8')
Evert Taube (1890 – 1976): Nocturne (2')
Besetzung
| | |
| --- | --- |
| Contrabass | Jesper Ulfenstedt (Komische Oper Berlin) |
| Puppeteer | Frank Soehnle (figuren theater tübingen) |
| Costumes | Sabine Ebner |
| Light | Christian Glötzner |
| Video | Tine Beutel |
| Assistent | Véra Rozanova |
| Choreography | Karin Ould Chih |
| Photos | Julia Pogerth |
technical staging specifications
STAGE AREA
Stage requirements including wings: 7 m x 5 m (width x depth)

Tiered audience seating

Stage area height at least 3.5 m

Complete darkness essential

A minimum distance of 1.5 m from edge of stage to 1st row of seating

2 platforms of 1 m by 2 m, height 60 cm
TECHNICAL DETAILS
We need the promotor/management to provide the following:
A complete lighting system

2 x 1KW profilers /5 x 1KW PCs

A 10-channel lighting control desk + 4 extension cables for our own light sources

(2 floor sockets each on right and left, edge of stage)

Stage assistants to help with assembly and dismantling of stage set

Dressing room facilities with sink to accommodate 2 people
TIME
Length of performance: 60 min

Set assembly time: 4 hours / Set dismantling time: 1 hour
PYROTECHNICS
During the performance, a match, a candle and a stick of incense will be lit. Please check all smoke detectors and set accordingly
Essential – please take note!
It must be possible to darken the stage area completely (blackout)

Maximum audience capacity: 150 persons

The performance is suitable for youth and adults
Please discuss all variations with us in advance.
Your contact for technical questions:
Christian Glötzner, +49 176 7129 7676