Wunderkammer
(Cabinet of Curiosities) –
Meditations on Wonderment
Trio Gottschalk – Mürle – Soehnle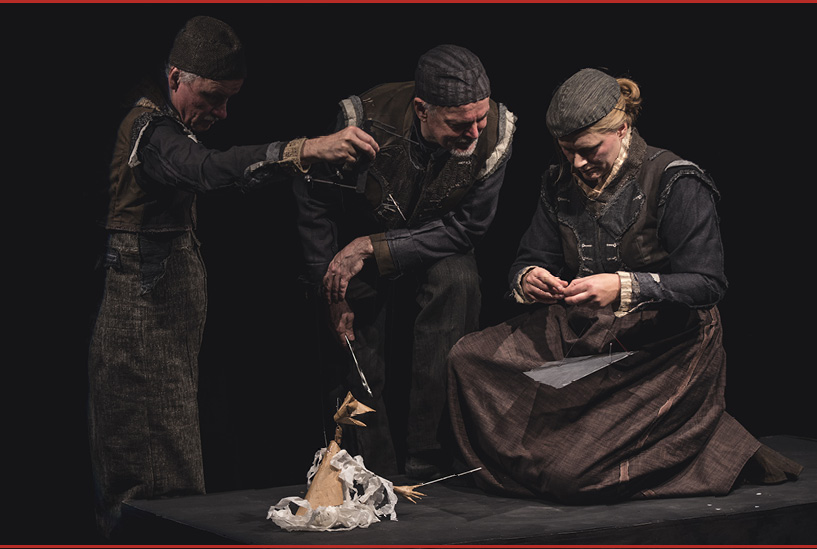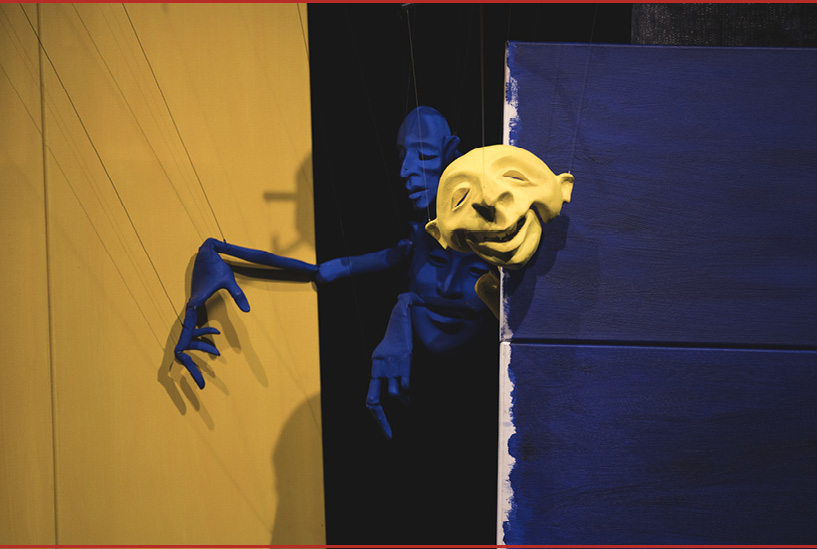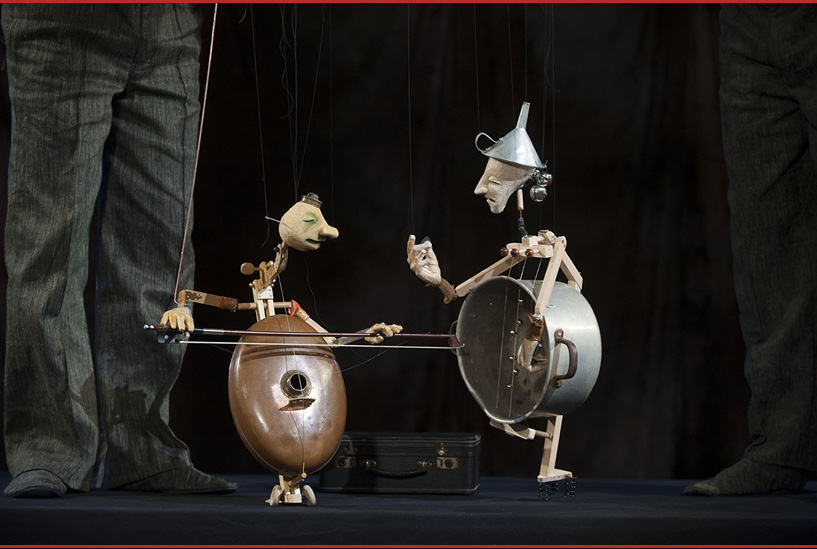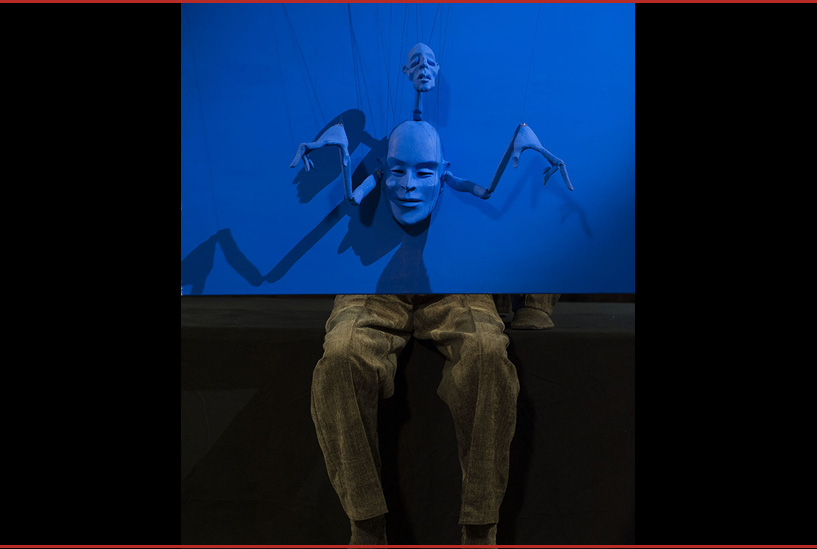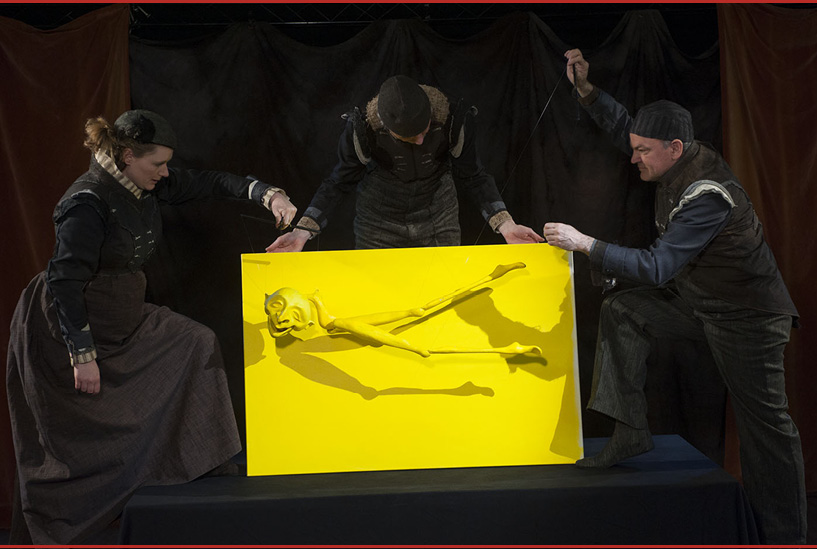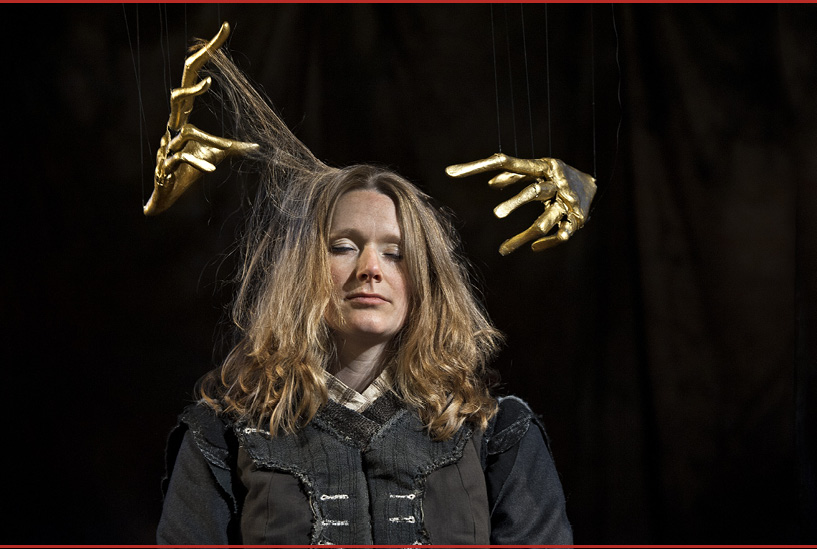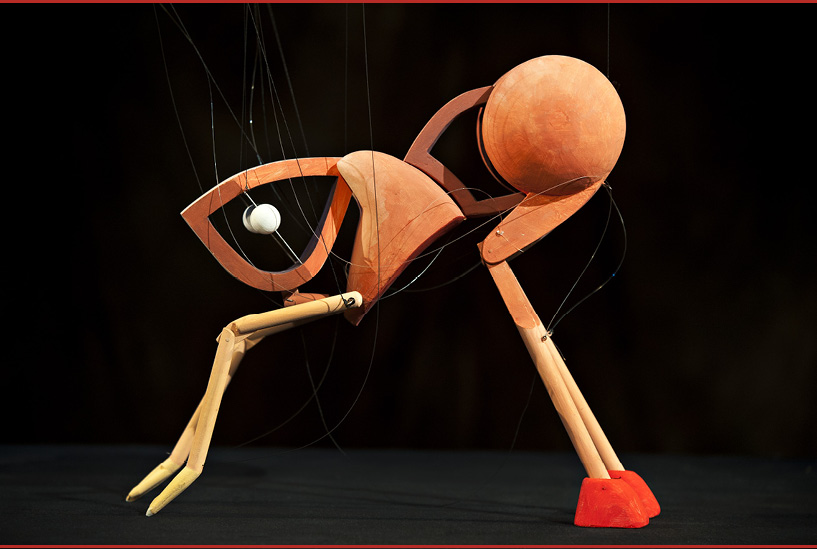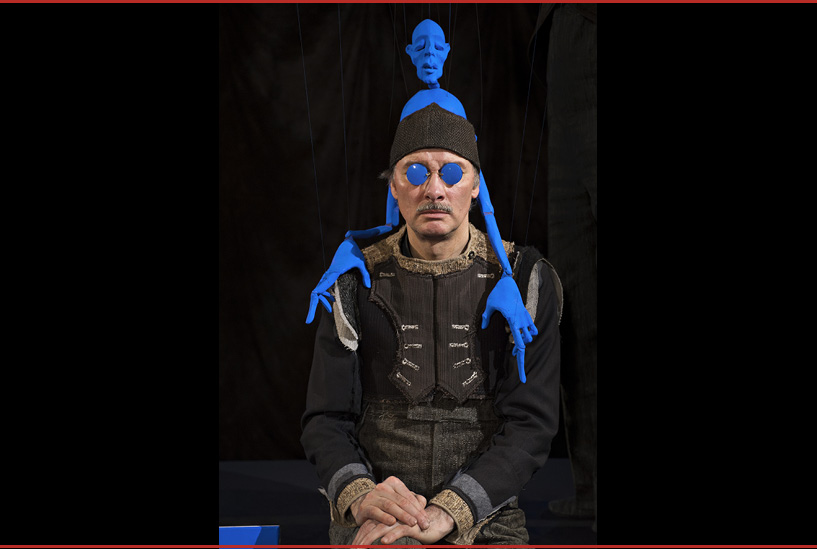 The idea of a "cabinet of curiosities" – an antiquated name for a museum of rare and unusual artefacts – provides the framework for this evening of theatrical entertainment betwixt the visual and the performing arts.
Tempo and flair are created by the compositions of jazz pianist Michael Wollny and harpsichord player Tamar Halperin, as well as by the electronic music and custom-written pieces for cello by Bradley Kemp.
Puppeteers Alice Therese Gottschalk, Raphael Mürle and Frank Soehnle, all disciples of the internationally renowned master puppeteer Albrecht Roser, convene as a trio to improve upon and intensify their puppeteering skills collectively.
The exhibits in a cabinet of curiosities were meant to demonstrate the universal connection between all things and to impart a perception of the world in which history, art, nature and science all formed a whole. Contrary to the scholasticism of the High and Late Middle Ages when all areas of knowledge had been regarded from an abstract point of view, a cabinet of curiosities represented awareness gained through various sensory observations. From this standpoint, the many-facetted medium of the marionette also presents the audience member with a cabinet of curiosities. Here, our senses are given the possibility to perceive gravity and magnetism. Mere mechanics demonstrate marvellous mysticism. Freedom of movement is experienced in the connection between physics and gracefulness. The wonderful and the mundane, technology and poetry exist in equilibrium and thus facilitate a novel perception of the world and the unity of all things. Step into the curious cabinet of marionettes and allow them to transport you to a place of wonderment with their inimitable allure and weightlessness.
Premiere: 13 April 2013, "Theater in den Pferdeställen", Tübingen
Jury's Prize at the International Festival of Puppetry Art, Bielsko-Biała, Poland, 2014
Made possible in part by: Landesverband freier Theater Baden-Württemberg, Fonds Darstellende Künste, FITZ! Figurentheaterzentrum Stuttgart, Förderkreis Figurentheater Pforzheim, Theater in den Pferdeställen Tübingen.
press reviews


"A fantastic reflection on the power of imagination."
Stuttgarter Nachrichten, 2013
"A masterpiece from three masters in string-puppetry: physics and poetry!"
Stuttgarter Zeitung, 2013
"As each curiosity is introduced, it becomes clear that this is a show about connection and fusion. This is a place where the practical meets the aesthetic, where art finds science. This is about the whole. That Gottschalk, Mürle and Soehnle are masters of their craft is clarified when a swinging wooden doll is operated by all of them together and their magnetism draws her to them (or her magnetism draws them to her? Or both?). Choreographed so well by Lisa Thomas, the four of them become weightless and flowing. More importantly, they become one. They are unified, dancing to their conclusion. At the end of the performance, every single artefact and puppet used in the show is laid before us, so we're not simply seeing the individual pieces, we're seeing the whole; the sum of the parts.
As for me, I'd see Wunderkammer again because it's good to feel complete."
Bristol Guide, 2015
"Out of this extraordinarily moody production oozed something quite retro but at the same time something madly new – a steampunk essay on wires if you like. There were some delightful uses of simple materials for maximum effect. You begin to get the idea. There is wit here, perhaps also a sense of longing or loss amongst these devices. As the light went down after each weird interlude you began to wonder what might be next. The audience seemed quite hypnotised. Wunderkammer represents one big tick for the enchantment of low-tech, and is yet more proof if it be needed that puppetry can go where mainstream acting cannot – taking flight into the fragile nature of a truly surreal world."
Stage Talk Magazine, 2015
"Their puppets are stringed – offering the fluid, subtle and undulating movement that this mechanism allows. These highly accomplished three puppeteers bought tremendous precision and emotion to their performances, sometimes amazing audiences with technically risky skits (at one point, a small puppet is shuttled between puppeteers on a precarious network of its strings), yet always endearing the audience with those small yet significant gestures that transform puppets into shy, melancholic or vicious creatures before our eyes.
... an enchanting and suitably curious performance overall."
Puppet Place News, 2015
"They are poetic and evocative; they make a witty gymnastics of objects. Above all, they make the most of that delicious game the best marionette work plays between weight and weightlessness – where gravity is crudely defied and then delicately re-created."
The Stage, London, 2016
"The whole world was a fabulous mixture of the delicate, the macabre and the beautiful – by turns both eerie, frightening and funny. While it can be hard to keep an audience's attention with an episodic show with no real narrative through-line, Wunderkammer did it with ease. With each new puppet a brand-new world unfolded, suitably different from the last, with its own rhythms, sounds, and colour palette."
London Bubble Theatre, 2016
"Another enjoyable aspect of the performance is the relationship the puppets have with their handlers. The puppeteers interact with their puppets, not always, but when appropriate. They check on them if they look sad, or stop them from being silly if they must. It's another creative tool which renders the show more realistic and believable, while simultaneously increasing the fun. The skill of these performers is unquestionable and the joy you get from watching them perform is substantial, as well as the sheer disbelief that the strings on the puppets don't get tangled with the complex manoeuvres they pull off. A great show!"
The Metropolist, London, 2016
"A must-see! An outstanding evening full of miracles and poetry, inspiration and associations that will accompany you for a long time."
Straubinger Tagblatt, 2014
cast


| | |
| --- | --- |
| Performers and puppets | Alice Therese Gottschalk |
| | Raphael Mürle |
| | Frank Soehnle |
| Music | "Wunderkammer" by Michael Wollny and Tamar Halperin |
| Custom-written compositions | Bradley Kemp |
| Costumes | Evelyne Meersschaut |
| Lighting design | Christian Glötzner |
technical staging specifications


STAGE AREA
Stage requirements including wings: 7 m x 5.5 m (width x depth), ideal 8 m x 6 m

Stage area height at least 3.50 m

Platform 2 m by 1 m, height 60 cm

Tiered seating for the audience

Black box conditions


Total darkness essential

A minimum distance of 1.5 m from edge of stage to 1st row of seating

A gridiron or several possibilities for securing objects to the ceiling above the stage area (see stage plan)
TECHNICAL DETAILS
We need the promoter/management to provide the following:
A complete lighting system with:
4 x 1 KW profilers

7 x 1 KW PCs

2 x 500 W PCs

a 17-channel lighting control desk

10 extension cables for our own light sources

Stage assistants to help with assembly and dismantling of stage set

Dressing room facilities to accommodate 3 people
PYROTECHNICS
A candle lights a small piece of paper. Please check all smoke detectors and set accordingly
TIME
Length of performance: 70 minutes

Set assembly time: 5 hours / Set dismantling time: 1 hour
Essential – please take note!
It must be possible to darken the stage area completely (blackout)

Maximum audience capacity: 150 persons

This performance is suitable for youth and adults
Your contact for technical questions:
Christian Glötzner, +49 176 7129 7676